BONUS PERFORMANCES OF QUAQUEÂ NOCTE
THURSDAY NOV 8TH - SATURDAY NOV 17thÂ
Quaque Nocte is something different in the world of both puppetry and theatre alike.
Where else have you seen puppets animated underwater, in the sky and transposed into digital projections all in the same show?
Latin for Every Night, Quaque Nocte takes you into the world of dreams as you step into a theatre in the round. Seated at the foot of a giant oak you witness the miracle of birth, man's first steps, the apocalypse and even some sex and drugs. (please note this is not a show for children - adult content abounds)
This show was originally set up for the Ione's Annual Dreams Festival back in October but received such positive response that six additional shows have been scheduled. Three shows this week and three next week at which point the curtain falls for good.
SHOWTIMES
Thursday Nov 8th - 8pm
Friday Nov 9th - 8pm
Saturday Nov 10th - 5pm Matinée
Thursday Nov 15th - 8pm
Friday Nov 16th - 8pm
Saturday Nov 17th - 5pm Matinée
Where
82 Prince Street (behind Planet Wings)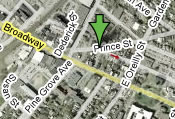 Kingston, NY